Jurassic World: Dominion Dominates Fandom Wikis - The Loop
Play Sound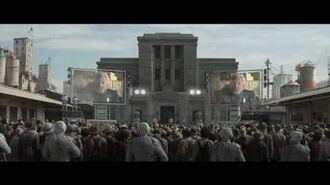 The Victor's Purge was a mass arrest, interrogation and execution of previous Hunger Games victors engineered by Coriolanus Snow during and after The 75th Hunger Games, with him trying to eliminate all remaining 53 victors, meaning that 22 had already died. The purge would continue during the Second Rebellion, ultimately reaching its end with the Capitol's defeat in 76 ADD. By the end of the purge, only 7 victors were left alive. The other victors that have died during this time but aren't on the list are because they died during the Second Rebellion.
Victors that were already dead
Victors dead in 75 ADD:
During the 75th Games, 18 more victors died, meaning that there were only 37 were left.
First Range
Since District's 8 and 11 rebelled first for their own reasons, their victors were killed at the same time. Only 5 died, meaning that 32 were left at this time.
District 1
After the 75th Games the victors dead from District 1 are:
District 2
After the 75th Games the people who are killed in District 2 during the Victor's Purge are:
District 3
The people killed during this time from 3 are:
District 4
Victims of the Victors Purge from District 4 are:
District 5
Victims of the Victor's Purge from 5 after the 75th Games are:
District 6
Victims of the Victor's Purge from 6 after the 75th Games are:
District 7
Victims of the Victor's Purge from 7 after the 75th Games are:
District 10
Victims of the Victor's Purge from 10 after the 75th Games are:
Survivors